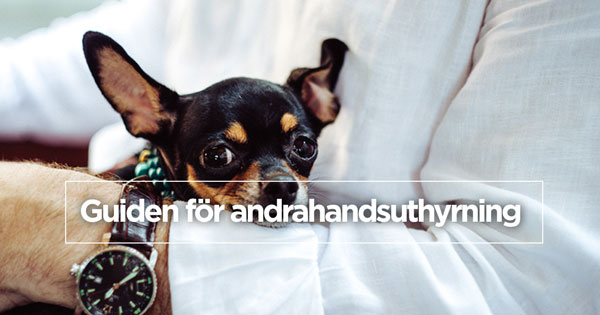 See this text as your guide to subletting your apartment. If you want more information, follow the links to the respective guides.
Subletting is regulated in ways that can seem unclear at first glance, therefore, we have created a collection of guides for those of you that are considering subletting your apartment.
---
Differences between subletting and renting out a condominium
Depending on if you are renting out a tenancy or condominium, the laws regarding each differ in great degrees. This is especially true when it comes to rent prices, rental permits, and contract termination. Generally subletting a tenancy is more regulated than renting out a condominium.
Rental permits for your apartment.
Once you have decided to rent out your apartment you need to think about permits. To rent out without a permit can cause problems for you later. Someone renting out their condominium without a permit can, after repeat offenses, be forced to sell their apartment and move out by their condo association. Similarly, if you are subletting your apartment without a permit you can lose your rental contract. Therefore, it is critical that you know when a permit is needed, how to apply for a permit, and under which circumstances a permit can be given out.
Here you can read more about permits.
How high you can set your rates
The rent is another important factor when renting out. Rent limits vary between subletting and renting out condominiums. If you are subletting your apartment at a high rate your tenant can appeal the rate to the rent tribunal (Hyresnämnden), and if they deem it irrationally high you can be forced to repay the excess to your tenant and then lower the rate. For condominiums the rules are looser, and the tribunal can only have you lower the rent in the future.
You can read more about setting rent.
If you want to see how high rates are for apartments similar to yours you can try out Hyreskollen (a rent calculator).
How to write a subletting contract
Writing a valid subletting contract is not that easy. Therefore, you need to get help from a lawyer or an aid like what we offer on our platform. It is important to have a clear statement of what is included in the rental in the contract to avoid future disputes. For example, the contract should include the duration of the rental period, the intended use of the apartment, and when and how payment is to be done.
Insurance when subletting an apartment
Most home insurances usually do not cover all damages that may occur in the home during the rental period. Red wine stains on the sofa, marks on the kitchen counter and scratches on the floor are all examples of damage that will not be covered by your own insurance.
To protect yourself against such damage, you as a landlord need a Rental Insurance.
Read more about it here.
Taxes on subletting apartments
When renting out a residence one may be taxed for it. However, you are entitled to a quota tax reduction of 40,000 kr. If your revenue from subletting exceeds 40,000 kr however, you will have to pay taxes for the revenues exceeding 40,000 kr. In other words, if your subletting income is less than 40,000 kr it is tax-free. Taxation of rental incomes is done in the capital gains portion of your tax declaration at a flat rate of 30%. The 40,000 kr reduction can be applied each year and for each residence.