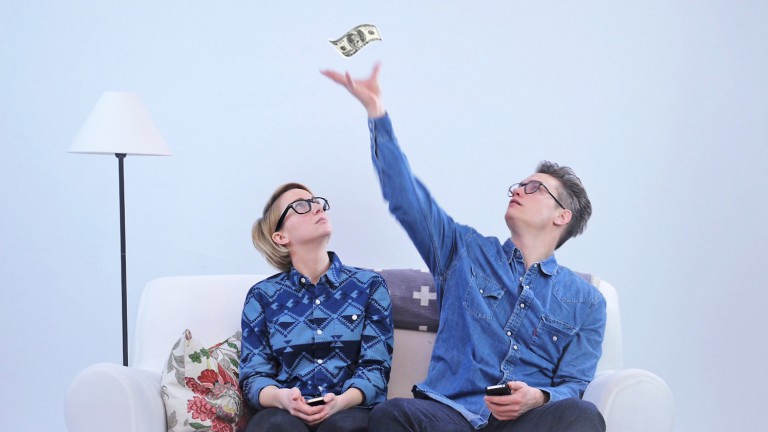 Regardless of why you choose to rent out, you will have to face the biggest question of them all: how high should the rent be? Therefore, we have chosen to collect all the important information about setting rent in this guide.
---
There are different rules for setting rent for condominiums and sublets following the implementation of the renting out law (2012:978) in February 1, 2013. This gave people who were renting out condominiums more freedom to negotiate rent, whereas those who were subletting continued to follow the old rules.
If you want to sublet your apartment
The "use value principle" applies when you are subletting your apartment, which is decided by Swedish rent law. In short, it isn't up to you to freely set rent based on how much the tenant can pay.
A little more about "use value"
An apartment's "use value" is defined as the practical value that it has from the tenant's perspective. This means the rent should correspond to what the market looks like for apartments of that standard, size, location, floorplan, build year, etc. The "use value" corresponds to how the tenant values an apartment's properties, and therefore varies between tenants. In other words, it doesn't matter how the landlord values it but how the future tenant values it. The "use value" is determined through comparing different apartments with each other and through negotiations between the parts involved. Often times you'll find that your first-hand rent is around the "use value" level, but it can be worth looking up! Although it is rare, your rent may be lower than the "use value", and then you can raise it for your tenant and make some profit. You can find apartments with similar locations, build years, and standards to yours at the rent tribunal. This can give you an idea of where you should set rent.
Are you renting out furnished?
You can tack on 10-15% to the rent if you are renting out fully furnished. For something to be considered furnished it needs to have enough furniture so that the tenant won't have to go out and buy other furniture to complement what exists. You can also tack on other costs to the rent for things like gas, tv-licenses, parking fees, internet, etc.
If you want to rent out your condominium
The law (2012:978) is an exception to the rent law when it comes to setting rent. If you are renting out something that you own, you are free to set the rent as you like. You do not have to take the "use value" in to account. As a landlord you can set a market-emulating rent that covers your costs for owning the residence. Of course, you have to find someone willing to pay that rent (you can check the willingness to pay for your apartment at Hyreskollen) A reasonable rent should not exceed your capital costs (the interest costs you would have if the residence was bought on full loans) and maintenance costs (power, association fees, etc.) combined. If it does exceed this, your tenant can motion for it to be lowered in the future by the rent tribunal.
A little more about capital costs
The capital cost is calculated as a reasonable return rate on the residence's market value. The return is considered to be reasonable if it is no more than a couple of percents higher than the central bank's reference interest rate (see Riksbankens referensränta),
Note that the calculation is not connected to your actual loan costs: if the apartment is bought on loans or not is irrelevant.
A little more about maintenance costs.
By maintenance costs we mean the costs you have for keeping the residence in the condition it has been rented out in. Examples of this are fees to the condo association, wear and tear on furniture, power, Wi-FI, etc.
An example:
A condominium worth 3 million kronor is rented out second-hand. The fees to the condo association is 1900 kr/month and other costs for power and Wi-Fi is 800 kronor/month. With a reasonable return rate of 4% we get: (3,000,000*0,04) / 12 + 1,900 + 800 = 12,700 kronor). This is a number at which you are allowed to set rent. Check out Hyreskollen to calculate how high you can set rent. It is important to remember that this exception only applies for the first condo you rent out. If you want to rent out multiple ones, then you have to follow the same rules for sublets for the additional units.
Don't set too high a rent
Tenancy - If you set rent too high, you can get an uncomfortable letter in the post far after the rental period is over. Your tenant can go to the rent tribunal to have the rent evaluated for being excessive. If so, you will have to pay back up to one year of the excess rent to your tenant.
Condominium - If you sent rent too high, then your tenant can have it evaluated by the rent tribunal as well (however they need to inform you first). Fortunately, in this case you will only have to lower rent in the future and not pay any damages from the past.
Value your apartment with Hyreskollen
We know setting rent can seem complicated. That is why we have created the markets best rent calculator based on statistics from second-hand rentals. With it you can get your apartment valued for free and see how much it would cost to rent an apartment in a certain area. Try yourself and read more at Hyreskollen.
Sources
• §19 och §55 av Hyreslagen • Lagen (2012:978) om uthyrning av egen bostad • Hyresnämnden