Renting a vacation accommodation has never been easier and safer. Dream yourself away and book your vacation accommodation securely through Blocket Bostad.
This article is about vacation rentals. For information on long-term homes look here!
How to book your vacation home
Find your vacation home. Visit the "Vacation" tab and filter your search according to your preferences. Don't forget to specify the time period you are looking for accommodation since ads that are not available on the specified dates will not be shown.
Send a booking request. Click on the listing for the accommodation you like and send a booking request to the landlord with your desired dates. The total cost will be displayed in the ad when you fill in the booking calendar.
Confirm and pay for the booking. Once you have sent the request, the landlord has 48 hours to respond. If they accept your request, you will receive a link to the invoice for payment via Swish, credit card, or bank transfer. The payment must be made within 72 hours of receiving the invoice, or at least 24 hours before check-in if it is closer.
After the payment, the booking is confirmed, and you will receive a confirmation email with information and contact details for the landlord.
No money will be paid to the landlord until you have checked out and are satisfied with the accommodation. No deposit is required, and you have clear cancellation rules from the beginning.
When do I need to pay?
Once the booking is confirmed, you have 72 hours to pay for the accommodation (or 24 hours before check-in). If the payment is not made within that timeframe, an automatic cancellation will occur.
You can rest assured that no payment will be made to the landlord until after you have checked out.
Do I need to pay a deposit?
No, renting your vacation accommodation through us is deposit-free.
Can I change the booked dates?
If you and the landlord agree on different dates, the landlord can easily change the booking through your conversation. You will then receive a booking update that you can accept or reject.
Cancellations
Cancellation fees apply based on how close the check-in date is. The cancellation rules are specified in each ad and are chosen by the landlord.
Cleaning
In the listing, you will see who is responsible for cleaning. The landlord will indicate whether (1) cleaning is included, (2) there is an additional cost for cleaning, or (3) you are expected to take care of the cleaning before checkout.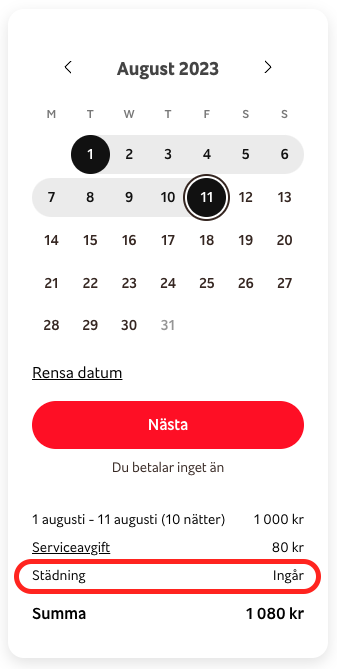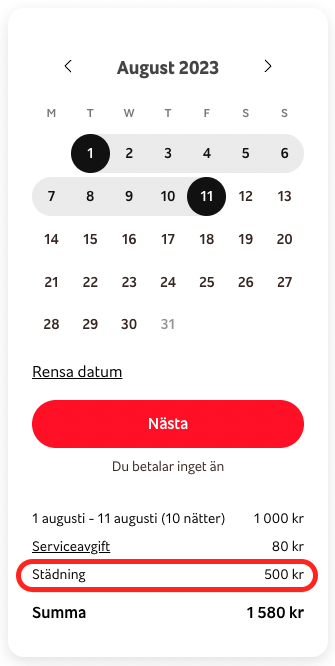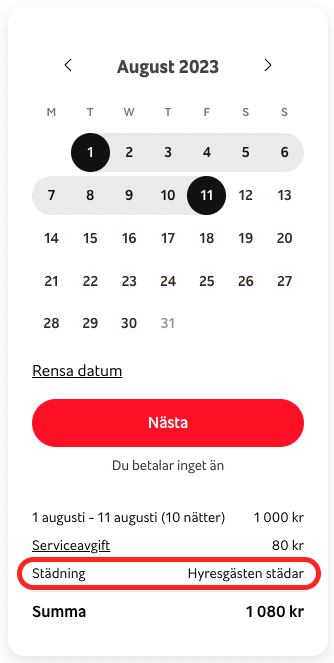 Support during the rental
If any issues arise during the rental, first contact the landlord. If the problem cannot be resolved, we offer support every day of the week through our support chat. We usually respond within minutes to provide you with quick assistance.
Book your vacation accommodation securely and easily with Blocket Bostad and look forward to a worry-free vacation!